Welcome to the Bethel Wedding Chapel.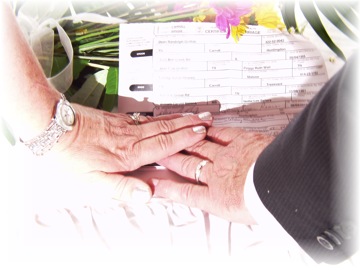 The City of McLemoresville is proud to announce the opening of the Bethel Wedding Chapel in a beautifully restored historic church. The Bethel Cumberland Presbyterian Church was graciously donated to the citizens of McLemoresville for the purpose of preserving its history. After many months of renovation the Chapel is now open to the public for wedding ceremonies.
The Bethel Wedding Chapel is this area's newest and nicest chapel and is priced with the budget conscious bride and groom in mind. Our prices start at only $350 for a complete service that includes the use of our beautiful and fully decorated chapel, a wedding coordinator, music director and marriage officiator. We also offer more elaborate wedding ceremonies with an all inclusive array of amenities available on an a la'carte basis, where you may pick and choose from several added items from custom color coordinated decorations, ushers, custom music and much more.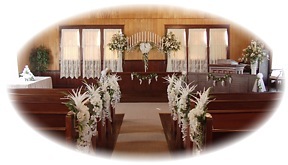 If you are interested in having a unique and elegant wedding in a quaint stylish setting, you will not find a nicer place than the Bethel Wedding Chapel. The unique ambiance of the chapel has been restored to its original decor complete with the beautiful walnut pews and functional upright grand piano. Bethel Wedding Chapel auditorium easily seats up to 70 attendees with further seating for 20 additional guests on the raised choir platform.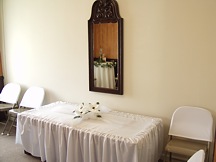 Nicely furnished dressing rooms for the bride and groom are separated by the hallway leading to the sanctuary and provide a dressing area for the couple's preparation and as a waiting area prior to the ceremony. Our inclusive wedding packages provides a bride's helper and coordinator to assist in seeing that the bride has everything needed on her special day, last minute preparations can be made without the bride having to worry.

Contact us at 731-986-9440 or send us an email through the contact form in the links on the left, we're looking forward to helping make your wedding day, the most memorable possible.
Thank you,
City of McLemoresville Mayor and Council